Flathead Lake is the largest natural freshwater lake in the western US. It is also considered one of the cleanest lakes, with its crystal clear blue waters. Having a relatively low human population and receiving a high amount of precipitation (primarily snow melt from the surrounding mountains), the lake's water is completely flushed every 2.2 years. This compared to a lake like Tahoe, which takes 650 years to flush.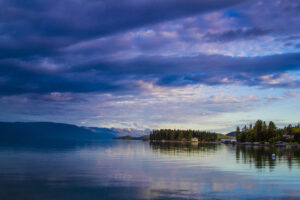 The lake is so large that is spans two Montana counties, Flathead County and Lake County. The massive size of the lake creates what is called a "lake effect" microclimate around the lake. The effect is a relatively mild winter, considering how far north Flathead Lake is. In fact it is rare for the lake to freeze completely over. This lake effect also keeps the temperature very comfortable in the summer.
Flathead Lake has several islands, the largest being Wild Horse Island, which is a state park. Wild Horse island is 2,100 acres with an abundance of wildlife including wild horses, bighorn sheep, and deer. Accessible only by boat, there are hiking trails and plenty of picnic areas along the shore.
Flathead Lake Statistics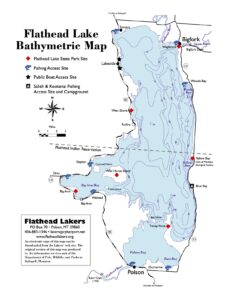 Length 26.9 miles
Width 15.3 mile
Maximum Depth 379.9 feet
Area of lake 191.5 miles
Shoreline 165.9 miles
Island shoreline 24.2 miles